As an androgyn/gender variant/non-binary type person; I'm used to having people "not believe" in my identity. What I am often shocked by, is when I hear people's identity come into question even in trans* spaces. I'm shocked to hear someone else; who has been fighting for recognition of their own identity turn around and do the same thing to someone else.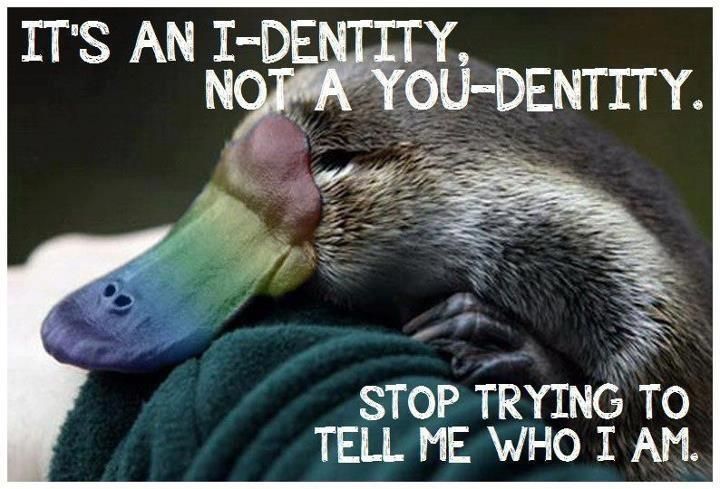 I thought that gender identity was in our minds? That's what I teach at my presentations and that's what I talk about here.
I have had people tell me that they accept gender variant identities…but clearly I'm male, and should come out as such. I've had people tell me that they accept my gender variant identity….but that other person over there…not so much.
I think the whole thing comes down to perception, and expression.
I can't speak for other gender variant folks (though I'd REALLY love to hear from them on this topic!!!) but for me; expression of my gender is a funny thing. It's HARD! It takes far too much work and forethought. Since there is no "gender variant" section in the clothing store…I have to make it up as I go along. I can't ever take for granted that my presentation and my intention will be read correctly or as I meant for it to come across.
If I dress in men's clothes without binding, it doesn't usually read as "gender variant" it reads as "dyke". If I dress in men's clothes and bind…I may be read as cis-male. (this never ever happens. I usually still get read as "dyke" but it's within the realm of possibility…)
If I dress in woman's clothes then I'm read as cis-female. (even though such attire is sometimes just as uncomfortable and unfitting of my gender identity as male clothes)
You see!? I can't win!!! How can I possibly dress in a way that would express to you, the general public…that I'm androgyn? When I dress in skirts and men's shirts with a nice tie I'm viewed as just…somewhat strange. It still doesn't read as what I'm going for.
As such… I've given up trying to be "read correctly" because this identity…it isn't about you. It's all about me. Being comfortable with myself, being my best self, being comfortable in MY skin.
On the flip side of that…personally I don't want to be a "gender warrior" every. Single. Day. Of my life. It's exhausting. It's tiring. I can't do it. I just can't. I commend those who are able, those amazing people. So you may come across me on a day where I'm wearing one of my other passions on my sleeve. Love, Equality, Bi rights, HIV advocacy…when my gender is on the front; I often can't talk about anything else. Just like the rest of you; I AM more than my gender.
Sometimes going out to a restaurant or new space with new people I'm not familiar with; I dress "female" because I may not want to come out via my dress and attire. It might not be safe, it might not be appropriate. (ie: Work. Mainly.) Most often; it's not understood without me explaining.
I have searched myself, gone through hours and hours of therapy, I have TRIED to fit within the binary. Don't you think it would be easier for me to do so? I sure do!! I've tried. Believe me I've tried. I've thought ever awful thing possible about my own identity. Then I came to terms with myself, and did what I needed to do to express myself, feel comfortable within myself and present to the world as much "me" as I can.
This was not an identity I came to lightly. Transition; especially at a time when gender variant transition wasn't even written about…was not easy. My gender identity is no more about clothes and style than any other. That's only what you can see. There's FAR more to me than what's on my skin, or how I interact with people, or what my energy might express.
Since I can't wear my entire wardrobe every day; you're not seeing the whole of my self expression on any given day. Same goes for any other gender variant person. Step back and look at everything you know about the person. Then; take them at their word. We do the same for the rest of our community.